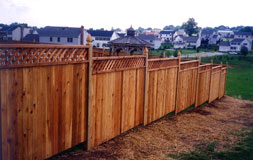 Professional installation is available for all products we offer. Do-it-yourselfers are encouraged to visit our retail sales office for high quality fencing products and expert assistance.

Eagleville Fence Company takes great pride in the professional installation of our high quality products. Every job, large or small, receives the same meticulous attention to design details, installation, and customer service. We are available for design consultation and can provide necessary documentation and specifications to architects and engineers upon request.

Our personable sales representatives have many years of experience in the fencing and construction industries, and are willing and able to help you design and build any fence project. Our installation crews are second to none.

A professionally installed Eagleville residential fence system will definitely be an attractive addition to your property. More than that, Eagleville Fence Company ensures that you receive high quality workmanship, maintenance-free property protection and durable materials. Our products are guaranteed to satisfy the most discerning homeowners, while protecting your family, your pets and your property.